Joan Gallimore

<!a target="joanpic" href="joan_g02_05_01_2006.jpg" title="(click for print quality picture)">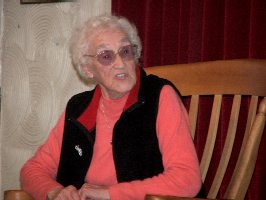 10th September 1922 - 8th August 2011
Joan's funeral was at Walton Lea Crematorium on Wednesday 17th August, and afterwards at the Saracen's Head, Wilderspool Causeway.
Mike Bartram conducted the service, and Quartz sang 'Good Friends' and 'Only Remembered', at Joan's request.
This was very much as a celebration of her life and love for Folk Music.
If anyone has memories of Joan that they wish to share, please let me have them and I'll add them to this obituary as soon as I can.
Memories of Joan Gallimore
By Stewart Lever 24 August 2011
I have loads of wonderful times with Joan Gallimore at the Railway Folk Club, Heatley, Lymm, Cheshire, but here's two that seem the most vivid.
Christmas Singers Night
Every Christmas, the folk club chose one of the Singers Nights to be their Christmas "do". It's the usual format, with everyone taking their turns to sing or play a tune, but with loads of free turkey sandwiches and mince pies.
I'd decided to act like Scrooge, "Christmas, Bah humbug! Now let's get this over with as quickly as possible and let's pretend we're enjoying ourselves. Big false smiles everyone!" So draped in tinsel, that's the way I ran the first half of the night. But after the interval, I'd planned to say something very different. But as I stood up to start the second half, Joan stood up and said she wanted to say something. I said, "No! No! I want to say something first!" But there was no stopping Joan, when she'd decided.
She said, "The thing that annoys me about many people at Christmas time, they think that if they're nice to their family and friends, they can then be horrible or ignore them for the rest of the year. Folkie's aren't like that. We behave like it's Christmas every day! We love to be with our friends and family all the year and don't wait for the one big day. It's just like the Railway Folk Club every week."
Well, I wanted to throttle Joan and said so. I said, "Oh Joan! You've stolen MY speech! That's exactly what I was going to say!" But instead of throttling her, I went over and hugged my lovely friend, Joan Gallimore. I just wish I started going to the folk club when her husband, George was still alive. Sadly, I never met George."
The Martin Carthy Concert
I remember the Martin Carthy concert at the Railway Folk Club. It was a sell-out and Martin was brilliant if not a little, dare I say it amongst fans, boring. The mood needed a lift and a few smiles. So I asked Joan to do a couple of songs after the interval, "Shall I do 'Anti-social problem' and the 'Phantom Flasher?'"
Well, she did both songs and the audience loved her. As people filed out, they kept saying, "Your Mum was really fantastic!" I had to keep pointing out that Joan wasn't my Mum, who in fact was sitting on the front row with our Wendy. Four years later at an Eddie Reader concert, in the interval I bumped into a couple who come regularly to our folk club who said, "We remember the Martin Carthy concert but said he was upstaged by your Mum!" I pointed out again that Joan wasn't my mother but still feel chuffed that people associated me with Joan.
Small four-legged stool
I'll miss Joan loads but I have something of hers to remind me every day. She gave me a small four legged stool that she bought for 10/6d when she was a child. It's now painted with blue preservative and it's just the right height for my cuppa when I got my lounger out in the garden!
---
Click here to close this window...

---