Kerry Smith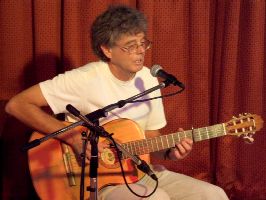 10th October 1951 - 13th March 2014
Kerry's funeral was on Thursday 27th March at St. Peters, Lymm (Oughtrington Parish Church) at 1.00pm, then at Altrincham Crematorium at 2.00pm, and afterwards at the Spread Eagle, Lymm WA13 0AG
All Kerry's friends at Lymm Folk Club were invited to give him a rousing send-off, and requested to bring their voices, instruments and bright, colourful clothing!
With permission, we have reproduced the notes from the Order of Service prepared by Kerry's sister, Shelley, Larissa's tribute to her father and the address given by Father Michael Burgess (Vicar of St. Peter's), who conducted the service.
The following text was prepared by Kerry's sister, Shelley, when he was in St Rocco's Hospice. It enabled nurses and visitors to talk to Kerry about his life when, due to his condition, it was difficult for him to communicate. It summed him up so nicely that we chose to include it here.
I am Kerry. I would love you to talk to me about life - yours and mine. Of course, there are so many things I would still like to have done, but it's been a good life and I have had great experiences and great company along the way.
My Dad was in the RAF (catering management) and we were stationed at various times in:
Brampton (Cambridgeshire)
Duxford (Cambridgeshire)
Ely
Finningley (near Doncaster)
Cyprus
Hong Kong
Libya.
I did an apprenticeship with Shell Tankers and spent 6 months as a Merchant Navy engineer.
I then studied Engineering at Manchester, where I met my lovely wife, Gillian, who was a Geography undergraduate. We have three amazing children (well they are to us!) - Larisa, Jonnie and Timmy. Larisa lives in Buckinghamshire with her fiancÚ, Chris, and the two boys live at home with us. We are a close family who have always done things together and celebrated special events.
I worked as a computer technician for most of my working life, spending over 10 years with IBM.
My great interests have always been...
Playing the guitar...

I started playing when I was in Libya (we had no television there) and developed a life-long interest in folk music. Gillian and I have spent many happy evenings with Lymm Folk Club. If you're interested, look up youtube - Ganderblast, where you will find video clippings of a number of songs I wrote and recorded just for the fun of it. You might like to try "Molly and Me", "Anniversary Song", "Crazy Mary" or "Che Guevara Song" (all favourites with my immediate family) as a starting point. I was playing until about July/August of 2013.



Walking (or running) in the countryside...

- for the exhilaration, freedom and sense of connectedness to nature - we live close to canal pathways and often have family walks along the towpaths and across the fields. I love coffee and cake at Dunham Massey National Trust Restaurant.



Carpentry...

I love whittling bits of wood, especially carving sticks for walking and little wooden mice.



Church...

As a family, we worship and are very involved at St. Peter's Church in Lymm and enjoy the fellowship of that community. Until recently I played guitar in the Church's music group. I enjoy studying the bible and have done quite a lot of reading and research round the subject.



Reading...

From Robert Frost poems to Terry Pratchett novels to Patrick O'Brian's historical novels. I have read widely and love listening to the spoken word.



Trees and My Allotment...

I love trees and spent time trying to identify them. I also have an allotment, which Jonnie (with some help from Timmy and Gillian) continue to cultivate.
Larissa's tribute to her father:
I would really like to thank you all for coming here today to remember my Dad, and celebrate his life. He would be flabbergasted to see how many people are here, and to see how many people cared about him. Strangely, Dad never saw himself in the same way that other people saw him. One of the funniest moments after he was diagnosed with brain cancer was his complete and utter bewilderment about the huge number of people who showed their love and support - he had never realised that he was so popular! In particular, he loved coming to church every Sunday to have all the ladies make a fuss of him and he said he felt like a local celebrity!
He may not have been able to see how or why people liked him, but I think it was easy.
ad was such a kind, gentle and funny person (and of course, pretty eccentric) and would always help anyone out in any way that he could, whether it be spending hundreds of hours of strimming the grass in the churchyard, loaning out a guitar, fixing a leak for a neighbour or giving someone a lift. He was utterly dependable (which is a quality that a daughter certainly treasures in her dad), extremely talented and the sort of man who could turn his hand to any practical task.
He was such a talented craftsman, and could make absolutely anything from a piece of wood. His repertoire included storeroom shelves (now at La Boheme!), rabbit hutches (which were so deluxe that they were really rabbit mansions), bedroom furniture, entire bespoke kitchens, and only 18 months ago, he made me a beautifully crafted Welsh Dresser, which Chris and I will treasure forever. His woodwork would often feature tiny imaginative details, such as a secret panel, or a woodland animal pyro-graphed into the inside of a cupboard door.
Dad was also one of the most intelligent, creative and well-read people I have ever known. He was a fantastic story-teller, which I understand is a family trait. My brothers and I were fully paid-up members of Chapter Club - which was a nightly occurrence. Every night, we would spend an hour with Dad before bed, and he would tell us a bedtime story. The reading material was hugely varied - from Tolkien to CS Lewis to Roald Dahl... but what we liked best were the stories that Dad made up himself. He had a huge repertoire of stories, and characters that would recur in stories with other characters. I think what we loved most was that they weren't bog-standard children's stories. They always had a bit of an interesting twist. For example, one story featured Tiny Tim (a regular hero) convincing the ladies of the village to donate to him the elastic from their knickers, in order that he could make a giant catapult to save the village from whatever calamity it was that they were facing.
His love of story-telling is evident in the songs that he has written. As many of you will know, Dad was a very talented musician and more recently, he channelled that talent into writing songs. He regularly attended and performed at Lymm Folk Group (some of whom are here today) and began to write his own songs. Often, an idea for a song sprung from an article he had read in a newspaper, or a book he had read many years ago, or even out of necessity; from forgetting a wedding anniversary and having to write an emergency song to give to mum as a gift! We were so incredibly proud of him when he entered the Lymm Songwriting Competition - and won! He then started up his own YouTube Channel, which you can still access, under the inexplicable pseudonym "Ganderblast". There are details of his channel included on the back of the Order of Service in case you would like to look him up!
Dad also spent (I think) over 25 years playing in the Church Music Group with Sheila Biddle, and Jonathan and I have many fond memories of playing the recorder, guitar and saxophone in the group with him (although I am sure that we both started our illustrious music group careers on the Shaky Egg)!
Many people will remember Dad mostly for his music - whether it be a song that he penned himself, or from him playing in the Church Music Group, or performing his star turn of Silent Night right here at the Christmas Eve midnight mass every year - and I know that he would be very proud to be remembered in that way.
It is very predictable of course, to say how wonderful a person was at their funeral. Dad obviously had his flaws, like anyone else. He could be short-tempered and grumpy, but this was usually short-lived. In an attempt to make the family watch less television, he once famously removed the fuse from the television plug, and pretended that it had broken. Unfortunately, he forgot that he had taught my brother and I to use a screwdriver, so when we had resolved the problem by removing a fuse from another appliance and fitting it into the TV plug, he found the whole thing hilarious and all was forgiven.
He was also incredibly grumpy about parties generally and having to attend social gatherings, and would kick up a real fuss before leaving. I expect that is something that not many of you know, because once Dad was at a party, he would be the life and soul of it, have a wonderful time and usually be one of the last to leave. Even when he was ill, at my engagement party, despite having dug his heels in about having to attend and despite being mid-way through a course of chemotherapy, he was one of the last people still up with everyone at midnight, cooking sausages on a BBQ.
I realised quite early on that my Dad wasn't particularly normal - not quite like other dads. As you all know, he was pretty eccentric - and for much of my childhood, I found this excruciatingly embarrassing! However, as I grew older, I really began to value the fact that he wasn't like anyone else, and started to think it was quite cool that he did his own thing. Whilst I may still have cringed when he wore his open-toed sandals in the dead of winter, or found it mildly embarrassing when he would wade into the Welsh sea fully clothed in the pouring rain, I was proud of his individuality and creativity and really began to value the fact that he was truly, one of a kind. He would always be the one in a strange hat, or wearing no shoes, or dancing wildly on the dance floor, but I think that just marked him out as the uniquely wonderful person that he was. He had absolutely unfailing pride and confidence in me and my brothers and taught us that we could do whatever we set out to achieve. Along with Mum, he gave all three of us the most wonderful childhood, for which we will always be grateful.
I am proud of him in so many ways, and feel incredibly lucky to have had a father like him. But what made me most proud was the way in which he handled his battle with brain cancer with the utmost dignity, grace and even humour. Many people have commented on how we have held it together as a family with such a positive attitude - but this all came from him. He never once complained about his lot; rather he considered himself lucky to have had the life that he had. He didn't sink into a deep depression - I never really saw him downbeat, not even at the very end. He held his head high, and kept his dignity, and I would like to think that we have followed suit. He also retained the ability to laugh at himself, and I think that got us through a lot of difficult situations. It may be inappropriate, but we all laughed together, right until the very end.
When his right hand stopped functioning, Tim nicknamed it the vice claw. He would shake hands with people and not be able to let go of their hand because the signals from his brain wouldn't be getting through. We would all have a good giggle about the expression on the face of the vice claw's victim - especially Dad. When he started saying no, instead of yes, and vice versa, we likened him to the old man out of the Vicar of Dibley, which made him laugh uproariously. My brothers, Jonny and Tim, were hilarious and made him laugh the whole way through his illness and as a result, we have many happy memories of what would have otherwise been a pretty bleak year.
I know that Dad didn't manage to do everything that he wished that he could have done in his life - unfortunately, he just ran out of time with us. However, we think that he packed in far more than the average person, and we are so proud of him in so many ways. My brothers, my mum and I feel genuinely lucky to have had him as a father and a husband, even though our time was cut short. However, we know that he has gone on to his next great adventure. Jonny, Tim, Mum, Chris and I will get on with our adventure but we will remember Dad in everything we do, and we will always try to make him proud.
We would love it if you could all join us at the Spread Eagle this afternoon, to raise a toast to Dad, and to celebrate his life in the way that he would have wanted, so please do come along.
Father Michael's Address:
Those wonderful words of Larisa and Kerry's own words on the back of the service sheet bring to mind that special life that has brought us all here today.
I should imagine when we learnt of Kerry's tumour and the treatment that involved, we must all have asked ourselves Why this life? Why now? They are difficult questions to answer - but they bring us face to face with the mystery of this life and love that move our world - they help us realise that life, however young, however old a person is when they die - this life is a gift - and it is a precious gift because it is so easily taken from us - there is a strength in life, but also a fragility - which means that it is a glorious gift to cherish and value. The preciousness - the gloriousness of Kerry's life have brought us here.
The candle burning by Kerry's body is a reminder of another precious life - the life of our Lord - that knew birth, growing up and an early death - but rose victorious over death as a sign and an assurance that we can see the gift of human life - of Kerry's life in that wider perspective and find hope and comfort for the future. It says that we are all here because Kerry meant and means something to all of us - someone we have loved and cherished - someone who has loved and cherished us. A life special to each of us - and amid all the feelings we have of loss and sadness, here we give thanks for the gift of Kerry's life - as we realise that without him all kinds of experiences of love and goodness would have gone unknown.
That will be true for Gill and Jonathan and Tim - as we heard it was true for Larisa and Chris - for Shelley and Terry - for Gill's sisters and mother and brother - and other relatives here today - and true for that wider family of St Peter's where Kerry was much loved and values - true for the Folk Club where again he was loved and valued.
As I think back over Kerry's life and I have known him over 20 years the words of that haunting poem by Robert Frost come to mind. At one level it is a simple poem about the poet and his horse stopping by the woods on his journey - eager to stay there with the lovely woods, but there is more journeying to do - and that journey is a symbol of each life - and of Kerry 's life. The 62 years Kerry lived will have seen tremendous journeys - around this world - and into space - to the moon and beyond. The poem I think says that we are all of us travellers on this earth - and while we are on a common journey, each one's journey is unique.
For Kerry his journey did take him around the world - born in Wales - just inside the border - and the first hymn was a reminder of that origin - because his father was in the RAF that meant being stationed in Cambridgeshire - and then to Cyprus, Hong Kong and Libya - travelling as a merchant navy engineer with Shell - then to Manchester - and after marrying Gill in 1977 there were visits to Russia and South Africa. Work with IBM took him to London - north Wales and then 29 years ago to no 153 in Lymm. And in Lymm he would love to walk and run in the countryside - along the canal pathways and fields - Kerry loved poring over maps and had a great sense of direction - though Shelley has said his short cuts were not always the best way to travel.
But this journeying through the world brought a great love of nature - Shelley has told me of walks around Shotton in north Wales as children with their granddad - with coalmines and the patchwork landscape about them and trying to see grandma shelling peas ready for lunch. Country walks were a regular feature of family life - Kerry would stride through fields of curious cows intent on terrorising Gill and the females in the group. As a teenager in Libya he would venture beyond the camp limits across war trenches and paraphernalia oblivious to any danger. And to celebrate the summer solstice Kerry would climb to the top of Moel Fammau to greet the rising sun with a glass of champagne and shod in those familiar leather sandals with no socks - that were in many ways his trademark. I think he tried to make sandals out of some rubber tyres - but it wasn't a successful venture. I imagine he got his trademark sandals on in the photo of his 60th birthday celebration on the canal.
Those sandals, those feet took him right round the world - enjoying the glories and wonder of travel and creation.
As well as the physical journey of travel and maps - there was also the journey of relationships - growing up with Shelley - meeting Gillian at Manchester university and marrying - again Shelley has told me of Kerry helping Gil to collect her soil samples and then phoning from the New Forest after his proposal to say she had accepted- blessed with as he says 3 amazing children - he described the birth of his children as being 'like falling in love, but it all comes in one mind-blowing moment and you are never the same afterwards' - and we can picture Kerry manoeuvring a buggy through the streets of Hull and Larisa strapped in a papoose - and of course the journey of friendships here at church and in the folk club.
And then the journey of the imagination and creativity - Larisa has talked of the Chapter Club - with Kerry reading to the children each evening for an hour - it might be the Narnia stories of Roald Dahl or it might be his own weaving of stories and sagas. When he was in Libya he taught himself the guitar and then taught Shelley - he was an accomplished musician - and composer - he entered the Lymm Festival competitions for song and writing and won in 2012. There were family sing songs when he was growing up - and then later enjoying the Lymm Folk Club with Bernard and the others who will be playing at the Spread Eagle. And if you google You Tube Ganderblast there is Kerry singing all the songs he wrote and composed - Molly and Me - Che Guevara - I think there are 18 in all. Molly and Me is a beautiful song - poignant and funny at the same time. His imagination gave rise to a special code for writing his diary. And the writing of others - Terry Pratchett, Patrick O'Brian, Nordic stories and westerns was grist to the mill of his own mind and imagination.
Kerry was creative not just in music and stories - but in making things - as a child he loved meccano and model aeroplanes - and later he made little wooden mice with leather tails and more impressively a Welsh dresser for Larisa and Chris - proudly delivered last Christmas.
And the journey of faith - that journey brought him here to St Peter's each Sunday - and on special services and social occasions - outings and walks - study groups with Churches Together - he had a mind that always wanted to find out and know more - when he was ill a few years ago with back trouble, I remember talking to him about bible translations - Kerry was the only one I have ever known to be interested in the great illustrator of the NEB Horace Knowles.
He loved playing in our music group at family services - providing produce from his much loved allotment for Harvest Festivals - he could always be relied on to light the Easter Fire on Easter Eve and shout out Who is the King of Glory at our Easter Day liturgy as the Paschal Candle was brought in to church. And at Christmas he played each year Silent Night on his guitar as it would have been originally performed.
All these journeys - a testimony to someone who was always striving forward - whether physically or in the mind or in faith. Even after his operation at Liverpool he was talking of using the time to learn Hebrew and Welsh - and he would walk up to church as often as he could rather than come by car after the chemotherapy.
And of course journeying into all our lives to leave these wonderful memories.
And you will be talking of your own memories later after the service.
What made and makes him such an endearing and delightful personality is I think that mix of being both down to earth and practical and a romantic thinker at the same time. Practical and always ready to help - at church it might be grass cutting and strimming - and Martin and I have a special memory of Kerry and Tim going up the spire two Christmases ago to clear out a blocked pipe which meant that the heavy rain was pouring down onto the organ blower and works - up in the spire in pitch darkness with 3 small torches manoeuvring a great ladder and sweeping away twigs and droppings to clear the pipe - and as a result saving the organ.
And the romantic - a lover of folk songs and guitar and poems - he would learn poems on his car journeys for IBM. In his words he embraced the idea of the Urban Peasant - Shelley in her memories has said 'he was comfortable in his own skin and danced to his own tune - but it was a tune that exuded kindness, curiosity about life and people, and a commitment to fairness and integrity.'
The truth of those words ensure that we will remember Kerry with a lot of love and affection, respect and esteem because in so many ways he lit up our lives. We know life will be less full, less colourful without him - but here we thank God for this life - as we commend him to God's eternal keeping and pray for his family and all of us who mourn his death at this time.
---
Click here to close this window...

---