Marie Pauline Jones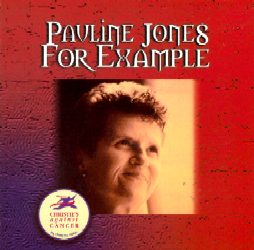 9th September 1951 - 12th August 2012
The voice of an angel, a warm and open-hearted friend and a devoted mother and sister, the folk community lost all of these on Sunday 12th August 2012, but Pauline Jones' memory will always remain with those of us who were privileged to have known her.
There cannot be many festival-goers who have not seen or heard Pauline, especially in singarounds, and we are indeed fortunate that a few years ago she recorded a CD titled 'Pauline Jones - For Example' containing some of her favourite songs, with the help of Dave and Helen Howard. All proceeds from CD sales have been, and will continue to be donated to Christie Hospital until all copies are sold. If you would like a copy, contact someone at either Acoustic Folk at the Nursery or Lymm Folk Club, two of the clubs where Pauline could often be found, and we will be only too pleased to oblige.
Born at Lancaster Royal Infirmary on 9th September 1951 to Thomas and Elsie Jones, Pauline grew up with her brothers and sisters, Bronwen, Howard, Anne and Tony in a large house between Lancaster and Morecambe. Even as a child, she had a strong sense of enterprise, collecting apples from the orchard and standing at the gate selling them to passers-by for pocket money.
She was a bright pupil at school, making her parents very proud by passing her 11-plus and gaining a place at Lancaster Girls' Grammar School. After passing her 'A' Levels she went on to university in Northern Ireland, a brave move as it was during the height of the troubles. This was a turning point in her life, and she became an active member of CND. Her passion for folk music blossomed, too, and she joined the Red Branch Morris. She travelled with them on many occasions, including a tour of Brittany which she fondly remembered as being the best holiday she'd ever had.
Whilst a student she studied for a time at Moscow University, but had to return home to deal with family matters. She continued her studies in Manchester at UMIST, completing a course in European Studies, after which she returned to Lancaster to take a teacher training course at St. Martin's College, where she immersed herself in the local, vibrant folk scene. It was around this time in 1982 that she met her future husband, Peter.
She took time out from teacher training to take a job with West Cumberland Farmers in Carlisle, writing articles for their in-house magazine. Topics included 'Pig Rearing Systems', 'County Shows', and 'The Development of Cottage-Based Food Companies'. However, this was not the life she had envisaged for herself, so she completed her teacher training and went on to teach English at the local high school in Todmorden.
Peter, meanwhile, completed his teacher training at Huddersfield, and they married in 1986. They spent many happy times at folk festivals, touring in Europe, and attending folk clubs up and down the country. Owen was born in August 1987, and their lives changed, devoting all their time and energies to their new son.
The family moved back to Manchester in 1990 so that Peter could study at UMIST, but things didn't run smoothly and they eventually split up in 1995. Pauline then moved to Nursery Road in Heaton Norris, where she lived for the rest of her life.
Not long after this, Pauline was diagnosed with Multiple Myeloma, a form of terminal cancer arising from plasma cells found in the bone marrow. This resulted in sixteen years of visits for treatment in Christie Hospital, including two courses of chemotherapy, and it was there she eventually died peacefully.
Following her diagnosis, she devoted herself to her son, Owen, of whom she was justifiably proud. He is the first to admit that he wouldn't be where he is today had it not been for his mother's unwavering support.
Her exceptional strength of character enabled her to continued to pursue her many interests and passions for as long as she was able, without ever complaining – music, cycling, swimming, gardening, current affairs, foreign travel… the list goes on! She had strong beliefs and opinions, was a loyal, trustworthy friend who put the needs of others before her own, and she had a great sense of humour with a sharp wit. However, most of us shall remember her passion for folk music and her beautiful singing.
Pauline's preference was for singing unaccompanied traditional and traditional-style songs, and her style was not unlike that of Anne Briggs. Jake Thackray's 'Old Molly Metcalfe' was a favourite of hers, and is included on the CD.
Altrincham Crematorium was filled to capacity on Thursday 23rd August with Pauline's family and friends, a testament to the high regard we all had for her. The service, led by Humanist minister Bev Costello, began with a favourite recording of Pauline's, 'Farewell to Govan' played by Irish whistle player Liam O'Flynn, which we could hear as we all filed in to celebrate her life.
Bev gave us an excellent summary of everything Pauline had achieved, believed and stood for, which was followed by the hymn 'Lord of all hopefulness', introduced by her brother Tony, and representing Pauline's ever optimistic hopes for her own future and that of her son.
Howard then recounted stories of their close relationship with their sister, and that she was firm, yet fair in all her dealings with everyone who had the fortune to meet her. He wryly recalled an occasion when she had organised a charity raffle, but when his winning ticket was drawn, she gave him her look that told him he wasn't allowed to claim his prize because he was her brother!
It was only fitting that Pauline should sing us on our way, so the family chose her unaccompanied recording of Lancashire Emigrant's Farewell as a reminder of the depth and beauty of her voice.
As Pauline had lived in Heaton Norris for the later years of her life, and she frequently spent time having a good sing at the Nursery Inn, we all went there to give her a good send-off.
She will be missed.
Bernard Cromarty
(with thanks to Bev Costello for her invaluable research)
---
Click here to close this window...
---