LYMM FOLK CLUB OFFICIAL STAFF PHOTO!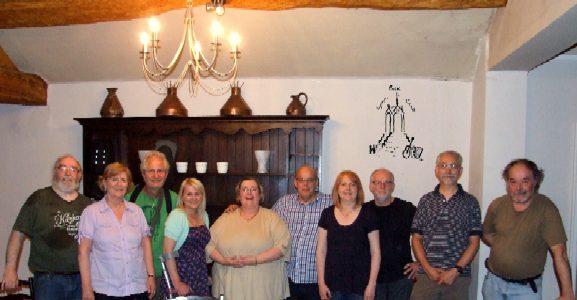 Bernard, Kate, Stewart, Janice, Lin, Nick, Lesley, Bob, Rick and Richard
(Thursday 16th August 2012, Spread Eagle)
Bernard is the Club Organiser, Bob Robinson collects the door money, Kate King sells the raffle tickets, Stewart Lever is Bernard's predecessor and a club 'resident', Janice Bell became a 'resident' during Lymm Festival 2012 and is now a duo with Mick Hare (not in the photo), Nick and Lin Tysoe are our other resident duo, with Rick and Lesley Nelson forming the trio 'Nelson Peach' along with Richard Peach... got all that? Good!!
Lymm Folk Club is blessed with a fine complement of 'Residents' - these are the performers who provide tireless support throughout the year for our guests!

They are:

Bernard Cromarty: Bernard took over from Stewart as Club Organiser in December 2010. There aren't many instruments Bernard doesn't play... and he sings, too. His material ranges from traditional, contemporary, Music Hall and just plain daft!

Stewart Lever: Stewart 'retired' as club organiser in November 2010... he sings and plays guitar. His material ranges from traditional, covers and self-penned.

Nelson Peach: the club's own super-group! They are Lesley & Rick Nelson and Richard Peach, whose material ranges from traditional, covers and the occasional self-penned song, along with a few tunes for good measure! Lesley plays flute, whistle, guitar and triangle, Rick plays guitar, cittern and mandolin, and Richard plays fiddle, mandolin, guitar and banjo - and they all sing!

Nick and Lin: Nick Tysoe plays guitar and banjo, and Lin plays autoharp, mandolin and guitar, and they both sing. Their material is predominantly American traditional and 'Old Timey'.

Janice Bell with Mick Hare: Janice and Mick are our most recent additions to the pool of residents, with Janice providing most of the vocals, and Mick playing guitar, bouzouki, mandolin and harmonica, plus vocals. Mick has also written some of the songs they sing.

<!img src=".jpg" alt="" height=100>

Bob and Kate: Although Bob and Kate aren't performers, their support is just as important - if not more so! Bob collects the door money, and Kate sells the raffle tickets... without them, the club wouldn't function!